LakesideAstro Motor Focus System
The motorised focuser from LakesideAstro has been designed and built in

the UK. It is a stepper motor focusing system (shown here attached to a Moonlite Crayford focuser) which is fully compliant with ASCOM and can be used with all the usual programs such as MaxIm, CCDSoft, FocusMax and many more.

It has an integral 16 character x 2 line LCD display which shows the position of the focuser and provides on screen access to the calibration routine, setup routines, precise manual control and other user functions.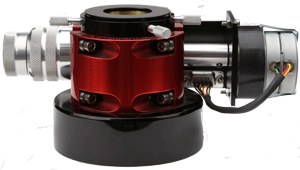 The motorized focuser can also be controlled by using the push button switches to provide manual focusing. The unit is provided with a all necessary cables, installation CD and suitable bracket and coupler to connect the stepper motor to the telescope. For a full description of the system see other pages on this site.

X2 Plugins now available for TheSkyX Pro!
Click to go to the downloads page
The LakesideAstro motorised focusing system is available from Ian King Imaging Limited who specialise in the supply of Telescopes/CCD Cameras and Astro Imaging Equipment.
For more information contact LakesideAstro at info@lakeside-astro.com or Ian King Imaging Limited at info@iankingimaging.com.